We prioritize realiabilty, performance, manufacturability, affordabilty and design for test-ability.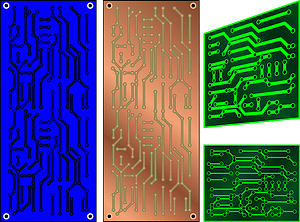 PCB Design Process
DESIGN REVIEW
We review your designs,We prioritize realiabilty, performance, manufacturability, affordabilty and design for test-ability.
SCHEMATIC GENERATION
We can create schematics from specifications given by client. We accept marked-up schematic sheets, or black diagrams. We do verbal discussions with the client and draw schematic accordingly. We accept schematics in PDF, sketch or any other format and can convert that into preferred CAD format. As part of our process we validate the Bill of Material (BOM).
PCB Design Tools
We use the standard tools from Orcad,Cadence, EAGLE and Altium (PROTEL) etc. We accept a a partial or fully placed netlist. We can use our library of parts, customer libraries or we can create library parts according to custmor's need . Our design team can schedule online video conferences to support you. We work 24/7.We have resources that can work on your design while you sleep.
Tools we use PCBandPCB
EAGLE
Cadence
Orcad Schematic Capture
Altium Designer (PROTEL) etc
PCB Stack-Up Design
Before we start the layout design, we analyse your requirement. We provide an in-house stackup design in this way all the design objectives are met. We provide HDI technology for PCB Design.We will use if HDI technology is required or could help in PCB optimization.
PCB LAYOUT DESIGN
PCBandPCB has talented and experienced engineers in PCB Layout Design.We are in constant touch with latest PCB layout design tool and technolgy. In this way we deliver high quality, cost-effective designs to meet our customers' technical requirement & demanding schedules.
FOOTPRINT LIBRARY
PCBandPCB provides the most comprehensive and accurate library services for PCB Design. PCBandPCB's library processes are equipped with effective creation using advanced tools and verification procedures. We also work with customer part libraries and perform Design for Assembly DFA test.
BOARD FLOOR PLANNING, COMPONENT PLACEMENT AND ROUTING
We do Board floor planning and place the component as per customer guidelines given. We perform checking of signal flows and routing needs and recommend component placements. We give customer PDFs,Gerbers, DXFs,check plots, etc. Customers will review the placement. Once approved, we proceed for routing.
PCB DESIGN TECHNOLOGIES
Single layer,Double layer or Multilayer
PCB Layout design for flex, rigid & rigid-flex designs
High-speed designs and power designs etc.
PCB Design with controlled impedance requirements
PCB Design for mechanical constrained boards and enclosures
High-Density Interconnect HDI designs with via-in-pad, blind via, buried via & micro vias also via stacking & staggering technology
Designs with fine pitch Ball Grid Array BGAs.
Customer to provide RF Specs for RF Designing
Reverse Engineering
We can take an existing board from a bare board or an assembled board. We take existing design files and drawings. From above input we can create a new design with all supporting documentation.
Cost Optimization
We design for affordability. We can review an existing product or design.We propose methods for cost reduction. In many cases, layer reduction can be achieved by using smaller geometries for conductors and vias and the use of laser drilled microvias.
Signal Integrity Services
We can perform signal integrity services on any high speed board designs that we make. We give importance to control impedance and crosstalk requirements. We will take care of PCB materials or types that are suitable to achieve a given set of signal integrity specifications.
So what are you waiting for?Please provide below things to get a design quote:
Schematic
BOM-Bill of materials
Mechanical drawings
Let's work together on your next web project
Do you have an exciting new project that you want to work together on? We'd love to hear from you! Get in touch with us to start your new project.